What does a Toastmaster Do?
Why do we need a Toastmaster?
"Our venue has a Toastmaster who will look after us"
Sometimes (although rarely) venues do have a Toastmaster who has undertaken professional training; however most venues are simply offering a member of their staff who undertakes the role of making announcements, they are acting as an "MC" (Master of Ceremonies).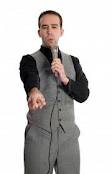 Having been a venue manager I understand that this can be an attractive option; however I also know that at times the member of staff who is to make the announcements has other duties and responsibilities. There are times when they will need to undertake their 'normal' duties and therefore will not be totally focused on you or your guests.
At one venue I managed, the chef had a problem with the oven and the Banqueting Manager (who was taking on the role of MC) was needed to deal with contacting the engineers, calm the chef down etc etc. He wasn't able to focus on only looking after the Bride and Groom.
No matter how well meaning venues are by saying they can offer this service, you may not be looked after in the same way that a professionally trained toastmaster will be able to look after you.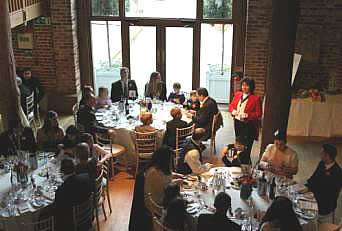 .
A professionally trained toastmaster will have invested a considerable amount of time and money to be trained and accredited by a professional association such as The English Toastmasters Association. The correct, full Toastmaster uniform is worn with pride. and also be able to focus solely on looking after you.
Announcements made by an experienced toastmaster will be given with an assured manner, be tailored to your requirements and ensure that not only do all of your guests know what is going on but also will get you an extremely warm welcome into your wedding breakfast.
If a venue has worked with a professionally trained toastmaster, they'll know just what a difference having an excellent toastmaster working with them will make.
"What is the difference between a Toastmaster and an 'MC'?"
An 'MC' will make announcements on your behalf. They may announce that your Wedding Breakfast is ready to be served; your entrance into the Wedding Breakfast, the speeches, the cake cutting and perhaps your first dance.
As a professional Toastmaster I will look after you (as Bride and Groom) and be involved in your plans for your Wedding Day so that I know exactly when and how you want things to happen.
By going through and understanding your detailed wedding plans, you can rest assured that the smallest of details will be looked after and everything will run smoothly.
As a professional Toastmaster I will ensure that you are really looked after and then also look after your guests, your photographer and (if you are having one) your videographer.
You relax knowing that all the key events of your Wedding Day are anticipated and I make sure that your photographer will be in place to capture every special moment.
By looking after your guests and building a relationship with them, you know that they will support you every step of your special day, including giving you an especially warm welcome into your Wedding Breakfast, a fantastic response to those all important speeches, when you cut the cake and when they welcome you onto the dance floor for your first dance together.
"How do you work differently?"
If you speak to any couple who were lucky to have a professionally trained toastmaster on their Wedding Day, they will let you know how they were looked after and made to feel so special; how their guests were looked after; how seamlessly everything ran and above all, how they didn't have to worry about anything. Please read my testimonials to see what some of my customers think about how I looked after them.
My focus is completely on you, your plans, ideas and how to turn these into reality so that you do have your dream wedding day.
Before you even consider booking me as your toastmaster for your wedding day, you will want to meet me so that I can find out about you, your plans and your style of wedding day. By meeting me, you will find out whether or not you would like me to work with you during the months of planning and to take care of you and your guests on the most important day of your lives.
Once you've booked me, I am on hand to answer any questions you have and be involved in any aspect of your planning to make sure you get absolutely the best day of your lives. You will be able to contact me by phone, email or even meet up with me; I will be happy to meet you as many times as you need to make sure that you are completely happy and relaxed. In addition to having a meeting with you six weeks before your wedding, I will also be happy to be with you when you have meetings with your venue, have a rehearsal or meet with any of your suppliers.
After any conversations or meetings, I will let you have a note of what we discussed so that you can reflect on this and let me know of any changes of any of the details. No question relating to your wedding will be silly. You can use me as your sounding board, your trouble shooter, your PA. I want you both to be completely relaxed about every aspect of your wedding.
"What do you do? "
Whatever you want me to!
I will help you with any aspect of your planning that you would like me to, so that you can use my experience when planning your day.
I will be available whenever you need to contact me; by phone or email and I guarantee that if I can't talk or respond to your email immediately I will get back to you as soon as I can and within 24 hours at the very latest.
Quite simply
A professional, caring Toastmaster who is passionate about providing superlative service
will enable you to relax
knowing that everything and everyone will be taken care of
so that you can enjoy your Wedding Day
The qualities that help to make an excellent toastmaster, who will really look after you, are:
Outstanding communication and leadership skills.
The ability to deal with everyone working for you on your Wedding Day :
the photographer, videographer, caterer, venue staff
which means that everything will run smoothly.
Excellent listening skills, so that your requirements are fully understood.
A passion for excellence and delivering excellent, quality, service, based on caring for you and your needs.
A calmness to ensure that a highly emotional day is looked after with great care
Working as a team with your suppliers so that your 'wedding team' pull out all the stops to make your wedding day memorable.
Quick thinking to make the most of every situation
Have a look at my testimonials to see what my Brides and Grooms say!